SUMMARY OF WORK
Suburban Lancaster Sewer Authority (SLSA) is planning for the replacement of the sanitary sewer pipes in the 1800 and 1900 block of Willow Street Pike area. The existing sewer pipes (vitrified clay/terra cotta pipe) were installed over 50 years ago and have deteriorated considerably. The sewer pipes need to be replaced with modern, more durable and watertight pipe materials.
Sanitary sewer pipes in this area run through the backyards of the residences, rather than in the street, as shown on the map below. In an effort to minimize earth disturbance of residences in this area, SLSA plans to install the new sanitary sewer piping using a trenchless pipe replacement method (pipe bursting). Pipe bursting involves inserting/pulling new pipe through the existing pipes, rather than open cutting and removal of the existing piping. By employing pipe bursting, excavations will generally be limited to areas around existing and new sewer manholes and to areas where individual homeowner service lines will be reconnected to the new sewer main.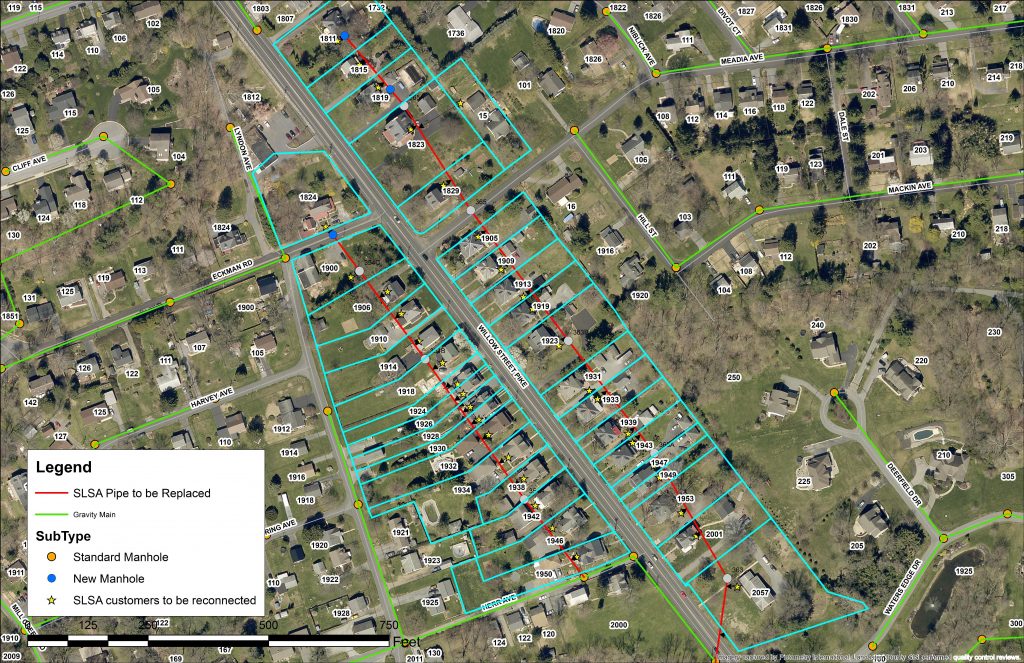 TENTATIVE PROJECT TIMELINE
Planning: September 2021
Utility Easement Acquisition: Sewer easement agreements were mailed to the residents in November 2021 for signature, notarization and return.
Engineering Design and Permitting: November 2021

On-site topographic surveying completed December 2021

Bidding for Construction: Fall 2022
Construction: Spring 2023
Completion: Spring 2023
CONTACT INFO
CDM Smith Inc.
280 Granite Run Drive, Suite 160
Lancaster, PA 17601
8:00 am – 5:00 pm
Tom Donahue (Project Manager)  – Donahuetc@cdmsmith.com (717)-581-8540
Adam Smith (Project Engineer)     – Smithan@cdmsmith.com (717)-581-8526
Abraham King (Project Engineer) – Kingaj@cdmsmith.com (717)-581-8529
LINKS FOR ADDITIONAL PROJECT INFORMATION
September 2021 Resident Meeting – PowerPoint
What is Pipe Bursting – Video

Notice is hereby given that Suburban Lancaster Sewer Authority will hold its second resident project meeting on Monday, August 22, 2022 at 6:00 PM at the West Lampeter Township Municipal Building (852 Village Road, Lampeter, PA 17537).
Have a Question?
This webpage will be updated periodically as the project progresses.